Testimonials
I want to thank you for being such a wonderful and understanding teacher. You really helped me to improve my Statistics/ Quantitative techniques and because of your guidance , I was able to pass the subject with flying colors.
Veenu Singh,
Sydney, Australia

I completed Pre-Calculus 12 online with her. She is very pleasant and always ready to help and cooperate in order to make us learn the course material. I felt very ready for the tests and scored very high marks for the assignments. She is very supportive and teach at a steady pace and Math eventually started to make sense.
Nishee,
Surrey, British Columbia, Canada

I would like to extend my heartfelt gratitude to you for tutoring me for my undergrad Maths course. You are receptive and you molded your teaching according to my understanding that made things easier for me and math became a less dreadful subject. And not to forget, I scored grade A in that course.Thank you so much for all your support.
Poonam,
Teacher,
British Columbia, Canada
I am a former student of Jas Nagi. I took Maths with her and I found that her methods really helped me to excel in my class, Her teaching methods are extremely unique and allow the students to grasp the material very well. She really makes sure that the students understand the material thoroughly. This is very important aspect of her teaching as it gives the students, time to absorb the content rather than just moving on through it. The combination of her kindness and intellect really makes the experience of learning enjoyable. She is a great teacher and good person.
Ali Choudhary,
Surrey, British Columbia, Canada
Jasvinder Mam has taught me Mathematics and Statistics in graduation at S.R. Government College, Amritsar. There are really no words to express my gratitude for her. She has the supreme art of awakening joy and creative expression in increasing knowledge about the subject. She has build up my confidence and enlightened my way to success. She is a living inspiration for the students. she is the best teacher.
Surbhi,
Amritsar, India
Jas is a wonderful woman to work with. I did my Statistics course from her. She offers teaching with great compassion, grace and patience. Her way of explaining really benefited me when I was struggling hard in the class. She kept it simple and really made the things to make sense for me. I highly recommend her to anyone for guidance as I had a wonderful experience.
Charmaine Gosselin,
Trinity Western University,
British Columbia, Canada
It has been an absolute pleasure learning from Jasvinder. Her friendly demeanour combined with her clear articulate teaching style have fast tracked my learning. I highly recommend Jasvinder for any one looking to brush up on their mathematical skills. I really feel that she takes the time to build a personal connection with her students, and I sincerely enjoy our tutoring sessions together.
Tom Partridge
Co-founder/Owner - EM Luxury Spa
Integrated Resource Planning Analyst- Fortis, British Columbia, Canada
Ms Jasvinder Kaur was my mathematics professor in govt college for women in Amritsar and I had the privilege to study math under her guidance in 11th grade. She was extremely knowledgeable, had an unparallel techniques to explain things, and emphasized on practice by providing a variety of problems to develop the problem solving skills. Under her guidance, not only I developed deep interest in math but I was also able to build a strong foundation on fundamentals that helped me to have smooth sailing in graduation and thereafter in masters. All the groups that she taught had small number of students that made sure that every student got the attention that they needed and I really liked the notes that she provided that came very handy for revision during exam days. I have worked for few years and now a days, I have taken a break to raise my family. But, I am still passing the knowledge that she gave us to our next generation. A strong foundation is key to success and I am sure that ms jasvinder Kaur can help you build that.
Binny Sarpal
Hasbrouck Heights, New Jersey
It wasn't easy to study maths in 1st year of BCA as I opted for computers in +1 and +2. I was not familiar with any formulas professor was teaching about. That is when I approached you and you helped me out with every topic and I managed to clear maths exams with ease. I was able to tackle every math problem with good understanding. It was a pleasure being your student and thanks for helping me.
Jaijeet Bajaj
Calgary, Canada
Jasvinder mam has taught me Mathematics at S.R. Government College for women,Amritsar, India. I am quite impressed with her dedicated and detail oriented approach to teaching.She was always very helpful, whether you needed help with solving problems on time or wanted answers to particularly tricky questions related to the mathematics. Currently in Canada, I am working as a Quality Analysis

Developer and am proud to be a student of her. I sincerely recommend Jasvinder madam and, given a chance, would learn more from her again.."
Pawandeep Kaur
Surrey, British Columbia, Canada
I've known no one who is more successful at tutoring students with difficulties in learning math. Jasvinder mam is able to take Math and teach it in a way that is simple and logical but most of all enjoyable. Math is just a game and my mentor has the secrets to winning this game called Math with easy to learn games. Not only to her students, but she is very responsive to her student's parents and their questions with a lot of Calmness and Patience. My appreciation and gratitude for your efforts mam in bringing out my interest towards this subject which before had frightened me and would strongly recommend everyone out there who wishes to excel in this subject with ease!
Niti Sharma,
Abu Dhabi, United Arab Emirates
My son was benefited a lot under your coaching & guidance as it was all of a sudden when he was told that he had to qualify in maths before he could do B.C.A. You have helped him & he was through, thanks a lot. All the best for your new venture.
Mandeep Bajaj, Parent, Amritsar
Hello Mam. Your way of teaching Is Awesome. You make every topic easy by your Skills and Knowledge, and you are always ready to help the students. I have done Graduation In 2009 from Saroop Rani Govt. College. After that I have done MCA (Master Of Computer Application ) from Punjabi University Patiala
Malika Makhu, Student, Amritsar
I learned so many things from you. Today I know how to manage any type of data... as well as I can teach to statistics students. I have learnt it from you.
Simranjeet Kaur,
Teacher and student manager, y link academy, Amritsar, India
Your way of teaching was very impressive and it was very easy to learn by using your methods. I understood the tough numerical methods easily by yourway of explaining the things. I have no words for appreciating your method of teaching mam. I was very happy when I learned how to generate binomial theorem.....
Richa Chaudhary,
orking at computer institute at Amritsar ,India
Congrats mam.. Your way of teaching is very good and you are very calm teacher. You taught me statistics in effective way and now I am doing master in economics from Guru Nanak Dev University. Thank you so much mam..

Gurpreet Kaur Nagra
Student at Amritsar, India
Although I have studied only for one year from you but the time I spent withyou was memorable. There is no doubt that your teaching was awesome but along with that you are a very good human being, co-operative, humble and having sound personality which in my thought are must for a teacher. The concepts taught by you are still remembered by me and your style of teaching was very attractive. At present I am pursuing B.Ed...regular with the blessings of you mam I have reached here...miss u very much...In one word I can say that mam you are incredible.

Nisha Saggar
Doing B. Ed. in Amritsar, India
I am not good enough to describe your teaching...but well..youare very supportive and fully dedicated. My experience was very good with you. The way you have taught me and taken my problems even after college time or in recess, is unforgettable. You are very dedicated towards your students. I have studied only for one year but you created my interest in Statistics by your way of teaching. Thanks a lot for being so much supportive.

Sonali Mehra
Amritsar, India
I was a student of class of B.Sc (non med 2007). I am greatly thankful to you Jasvinder mam for providing me the best knowledge of mathematics. Your concepts and explanations helped me to reach the depth of the subject and create my interest towards the subject. As a result, presently I am working as a lecturer of mathematics in S.R. Govt college.
Hapreet Kaur, Lecturer
Amritsar, India
Mam, I can't explain your way of teaching by words. Since math is difficult subject but your way of teaching makes it easy. By your knowledge & skills you make every topic interesting. So I want that every teacher should have knowledge and skills like you..
I was your student during 2005-2008 in SR Govt. College. After that I have done MCA from Punjabi university Patiala.
Mamta Nath
Amritsar, India
It has been a great pleasure to learn so much from you. You have been teaching and guiding since past 11 years and be it beginners mathematics of class 6 or be it super difficult engineering mathematics-1,2,3 you have always been an awesome teacher.Your way of explaining things leaves a lifetime impact on mind. Love to learn from you.
Sameena Bhatia
Amritsar, India
Me and my friends had tuitions of quantitative techniques and commercial. maths from you. We learnt a lot and enjoyed also. We gained knowledge that lead to progress in our life. At present I am lecturer at New Vision college, Kanpur.
Avneet Kaur, Lecturer
Kanpur, India
Mam, your method of teaching was very effective and easy.. I studied Statistics in Graduation. Right now I am working as a teacher. Thank you so much and God bless you always.
Sonia Rajput
Amritsar, India
It was great experience to study from you. I have learned so many things and moreover you was a motherly figure for me. i never thought of studying Statistics but just because of you I have done Statistics during my graduation. Currently I am working as a psychologist and enjoying my work..
Padam Amrita, Psychologist
Amritsar, India
For Students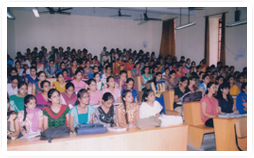 Students can get maths guidance in group or individually, make use of our extensive notes on different topics, coordination to complete assignments and support to develop and meet academic goals.